Free 3D bathroom planners
On this page we have compiled a comprehensive collection of 3D bathroom planners for your use. Some of these planners work excusively online, with no installation at all, and others are downloadable freeware programs that you install on your own computer. And don't forget to make the right choices regarding bathroom furniture and sanitary ware! Whether you want to design a new ensuite, a family bathroom or just a downstairs cloakroom, you are sure to find the right tool to help you in this collection. However, although all these planners take great care to include a superior attention to detail, product selection and flexibility, we always recommend that you use a specialist 3D bathroom planner where a professional level of detail is necessary.
Bathroom planning with branded products
Here you will find bathroom planners supplied by the manufacturers of the sanitary articles so that you can create an accurate design using specific branded products all from the same range. In most cases these planners also enable you to print a list of the items used with which to place your order.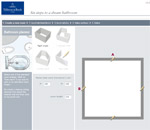 Villeroy & Boch Bathroom Planner
The Villeroy&Boch Bathroom Planner is as user friendly as our bathrooms. You can arrange and combine different designs until you have the bathroom of your dreams. You can even save your bathroom plan and send it to a Villeroy&Boch partner in your area.

Villeroy & Boch Bathroom Planner 3D
3D Planer Ideal Standard
Ideal Standard are one of the leading manufacturers of bathroom products worldwide. There 3D bathroom planner gives you the option to included Ideal Standard products into your bathroom plans. You can choose from many different templates and can start planning your bathroom immediately.

3D Planer Ideal Standard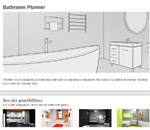 Reece 3D Bathroom Planner
When designing your new bathroom or planning your renovation, use the Reece 3D Bathroom Planner to help you create the perfect look and style of bathroom.

Reece 3D Bathroom Planner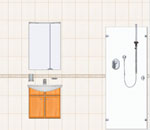 Webplanner Innoplus for Bathrooms
Webplanner-Innoplus is probably the best known online bathroom planner. Many manufacturers and companies make this bathroom planner available. It is layed out specifically for easy online bathroom planning.

Launch the Innoplus Bathroom Planner 3D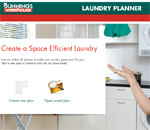 Laundry planner
This planner provides a fantastic 3D model for you to visualise your new design. We are hoping that one day such fantastic tool will help us create the perfect bathroom, because it would be one of the best things out there.

Launch the Laundry online planner
Frontline bathrooms 3D
Frontline launches the UK's first online 3D bathroom planner. This easy to use bathroom planner yrequires you to use Adobe Shockwave.

Frontline bathroom planner 3D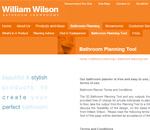 Bathroom Planning Tool
William Wilson provide a free of charge 3D bathroom planning tool to private individuals. You can plan and outline all your bathroom requirements.

3D Bathroom Planning Tool
Download your 3D bathroom planner
Here you find many bathplanner to download.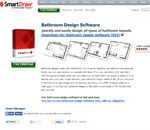 SmartDraw Bathroom Software
Designing your bathroom is easy with SmartDraw. You can begin with selecting the bathroom template you need and browse our examples for ideas. You can customise your own design with thousands of pre-configured ideas.

Launch SmartDraw Bathroom Software
MojaLazienka - Bathroom Wizard
This user-friendly program offers you an instant and simple design process with incredible 3d graphics completely free of charge! You can plan quick and easy and design your own bathroom like a pro. Planning is quick and easy and you can view your new bathroom live.

Download MojaLazienka - Bathroom Wizard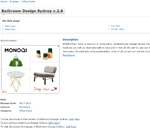 Bathroom Design Sydney
Innovative design tool and information relating to bathroom designs can be found on this site. Bring your design ideas to reality using this design too.

Bathroom Design Sydney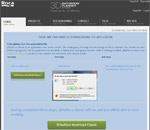 3DbyRoca Classic Planner
3DbyRoca Classic is an application for planning your bathroom you can find all of their catalogues, drawings and rendering online. You might have to make changes to your antivirus program or downgrade your security settings while it is being installed.

Launch 3DbyRoca Classic Planner
Bathroom planners are useful!
3D bathroom planners are very useful because you can picture the final result much more easily by using them. Also, any errors in the design can be spotted and rectified before going to the expense of buying all the items and then finding something is wrong! So – if you have the opportunity to make a 3D plan of your new bathroom design it's a good idea to do so (and have fun doing so!), so that everything goes right first time when you actually build it.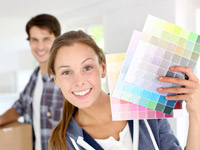 Have you found another 3D online bathroom planner?
If you find a good free online 3D bathroom planner that we don't know about, drop us a note on our contact form with the details and a link and we'll add it to our collection.
all Bathroom Planners 3D
based on
9
voters.