Free 2D online house planner
When you first think about planning the layout of a house in two dimensions it seems quite simple at first – after all, all you need to start with is the floor arrangement and the colour scheme, right? So our collection of 2D online home planners can easily supply you with the facility to plan the floor plans and how the rooms are divided. These house planners are very basic and offer very much the same functions as the living room planners. If you want to decide on more than just the floor plan and colours, then you could use one of our free online 3D house planners, or download some 3D freeware to enable you to work offline on your own computer.
PlanningWiz3 floor planner
This planner enables you to map the new floor plans out very quickly and easily and begins to give you a great picture of the layout in a very short time. It can also go outside and include any balconies, terraces and garages that need to be organised at the same time as the indoor floor plan. There's no reason why you can't have fun while you're working, and with this planner you will have fun!

PlanningWiz3 house planner
Two-dimensional house planners
A 2D free online house planner enables you to create the first overview of your new dream house's floor plan quickly and easily so that you see the general details at a glance. When you want to see a virtual three-dimensional representation of how the house will look you can move on to a free online 3D home planner, or perhaps download a 3D freeware software program that you can use offline on your own computer.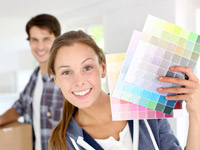 Wanted – more 2D online house planners!
Have you found another 2D home planner that we don't know about, or another type of planner that enables you to create floor plans for your new house? If so, please send us a link to it and some details using our contact form and we will add it to this collection, so other people can also use it to help them create their new house plan in two dimensions.
House planners 2D
based on
0
voters.