2D living room floorplanners
We have compiled a collection of the best two-dimensional online floorplanners for you to create your designs without having to download anything to your own computer. This means that you can quickly and easily create your plans and decide where your furniture should be positioned in an easy to operate browser window. If you'd like to see your flat floorplans come to life in a 3D representation then you could try one of the floorplanners in our 3D online collection.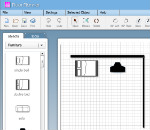 FloorPlan 2D
Floorplan allows creation of your room designs in two dimensions – just start the plan with your room dimensions and then add your furniture and accessories, moving them around until you have the perfect arrangement. Floorplan is free and very simple to use, allowing full customisation of your plan, and storing it online for you to retrieve when you wish.

Smallblueprinter Floorplan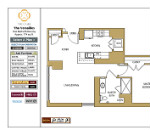 The Clare Floor Planner
This interactive 2D planner makes designing your living spaces very easy to do, whether it's a living room, a dining room, a bedroom or a children's playroom. There are different layouts supplied, ready for you to add your furniture and decorations and the resulting plan is saved online ready for instant retrieval.

The Clare Floor Planner
PlanningWiz3 Floorplanner
The Planning Wiz floorplanner offers almost comic-like graphics, using strong colours and rounded shapes to give a vibrant look to your designs. It allows the creation of multi-room plans so that a realistic interpretation of the whole floor in your building can be built at once, and it is very simple and intuitive to use.

PlanningWiz3 Floorplanner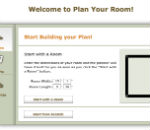 Plan Your Room
If you use the 'Plan Your Room' online floorplanner, you can create your room plans with speed and ease. Start simply with one room, place and move your furniture around until it is exactly how you want it, then do another room and continue with the rest of your living spaces. This planner is accessed exclusively online and contains samples of existing plans to show you what can be done.

Plan Your Room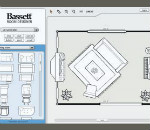 Icovia 2D Planner
Designed to be used by everyone from the individual designing their own home to the furniture manufacturers who supply the items, the Icovia 2D space planner requires no downloads or other software and can be used online directly through a browser. All plans are stored online to be retrieved later and the planner is very easy to use.

Icovia 2D Planner
Arrange A Room
Register with this online floorplanner using your email address and you will be able to create your 2D room design and add your funiture and accessories with ease and speed.

Arrange A Room online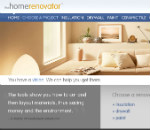 The Home Renovator
This online estimating software was designed particularly to help the person who likes to 'Do-It-Yourself'. You create the design using your room measurements, add the rest of the required project details such as paints, floor coverings and fabrics, and this software will create a complete list of the materials you'll need, tools required, cost estimates, cutting instructions and any other relevant details you'll need to decorate your room yourself.

The Home Renovator floorplanner
2D Interior Designs
Two-dimensional living room floorplanners allow easy designing of your living space on a flat plan, whether it's for a living room, a bedroom or a playroom. If you'd like the more realistic view afforded by a three-dimensional planner, check out the 3D floorplanner collection.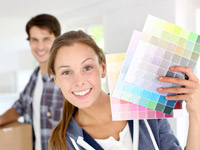 Found a new 2D living room planner?
If you find a free 2D living room planner that isn't on our list or you've just made one available, let us know through our contact form and we'll add it to our collection
Living Room Planners 2D
based on
0
voters.