Free 3D online garden planners
There are not many free online 3D garden planners available, but for you, we have found them! Three-dimensional planners allow you to view your design as it will look in reality rather than as a 'flat' rendition, although often you will put the plan together in a 2D view, before switching to a 3D view to see what it will look like, because rendering the design in 3D takes a lot of memory and will slow the software down significantly. If you prefer to work in a downloadable software planner that can be used offline, you should check our collection of garden planner downloads.
Yates garden planner
The Yates Virtual Garden free online planner has an extensive catalogue of items to be used in your design, from flowers, vegetables, trees and shrubs to sheds, benches and tables and even includes fountains and ponds. The design elements come with articles and expert advice to help you get the best from each item, and helpful tips as well.

Yates garden planner 3D

BBC Virtual Garden 3D
The BBC Virtual Garden is a beautiful 3D garden planner that enables you to create the landscape for your new dream garden, placing the various elements as you want them and then displaying the result in three-dimensions to see how it should look in reality. This online 3D planner is not only free, it can be used without even registering on the site!

Launch Virtual Garden Planner
Marshalls garden planner
Marshalls' Garden Visualiser does exactly what it says – it is a sophisticated tool that enables you to see for yourself what your dream garden will look like when it is finished. The catalogue includes a wide selection of different paving and wall options as well as all the standard plant and furniture items, and allows you to create custom sets of less common things like steps and pillars as well – you can even add a representation of your actual house to see how it goes with the design.

Marshalls garden design tool online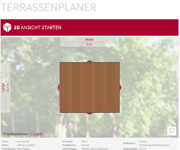 MegaWood 3D Terrace Planner
A convenient-to-use online terrace planner, MegaWood makes it easy to create your dream terrace. Enter the measurements and shape of your space, including where it meets the walls of your home, and then you can use the extensive range of wooden flooring options and matching furniture to get your perfect design. Finally, with one click, you can view the design in 3D.

MegaWood 3D Terrace Planner
3D garden planning tools
These free online 3D garden planners are a great help in bringing your dream garden plan to life, but if you prefer to work offline you should look at our collection of downloadable software planners that work entirely on your own computer.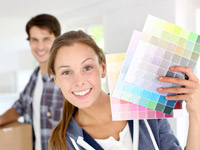 Wanted – 3D online garden planners
Have you found another good free online 3D garden planner that you recommend? Or perhaps you have uploaded one to the internet yourself? If so, send us details and a link via our contact form and we will look at adding it to our collection.
Garden planners 3D
based on
29
voters.