Online Terrace Planners
Who doesn't like to sit out in the garden, enjoying the fresh air and sunshine and listening to the breeze rustling through the trees? Some manufacturers of ranges of wooden decking and outdoor furniture have put together online terrace planners in order to give you the opportunity to create your perfect environment in which to enjoy the summer. You'll find all the colours and materials you need to create your own dream terrace within the catalogues of samples offered.
Plan your terrace in 2D or 3D
Once you have entered your basic floor plan and other key fixtures (such as walls and steps), you can start the detailed planning of harmonious materials and colours, before adding matching furniture to complete the picture. When you want to view your design, you can use various styles from a simple 2D plan view to a dramatic, photo-realistic 3D representation, making it easier to decide what you want.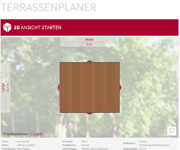 MegaWood 3D Terrace Planner
A convenient-to-use online terrace planner, MegaWood makes it easy to create your dream terrace. Enter the measurements and shape of your space, including where it meets the walls of your home, and then you can use the extensive range of wooden flooring options and matching furniture to get your perfect design. Finally, with one click, you can view the design in 3D.

MegaWood 3D Terrace Planner
Pure Relaxation
Do you have a terrace outside your home, either on the doorstep or further out in the garden? Our terrace planners will not just organise and display your own ideas for using the space, they will also make great new suggestions for alternative furniture, colours and decorations. We wish you always good weather and a relaxed atmosphere out on your newly designed terrace!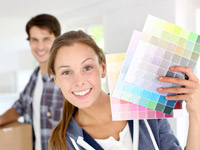 Have you found an online terrace planner that's not on our list?
If you have found an online terrace planner that we haven't got, whether 2D or 3D, or if perhaps you've produced one and made it available yourself, then send us links to it (or them, if you've found more than one!) and and we will look into including it (or them) in our overview of terrace planners.
Terrace Planners
based on
0
voters.