Colour planners to help with your design
If you find it hard to visualise how certain wall colours will go together with each other and with the furniture and floor, or if you're not sure how to design the colour choices for the walls, then a colour planner can be a great help. Many companies offer different types of colour planners, and all of them can help you decide how to blend the various colours in a complex design for a harmonious result. In order to ensure that you have the opportunity to try them out, we have compiled for you a collection of some of the most important colour planners available from the internet.
Colourful colours!
Do you fancy creating something really new and startling, but you don't know how to go about it? Then try it out in a free colour planner and let your imagination go wild! Working in a colour planner you can use the boldest colours and wackiest layouts without worrying about cleaning it off if it doesn't work, then save your design (or throw it away) and start again with a different idea ... If you want to design more than just the colours for your room then we recommend you use one of the more comprehensive planners that let you plan the layout and the furniture as well.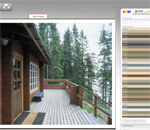 Colorplanner 4
The Colorplanner 4 allows you to upload your own pictures and photos, eg of your own house and rooms, then repaint them as you want to redecorate, complete with charts of the colours and quantities used so you can buy the paint needed to replicate your design on the actual building.

Launch Colorplanner 4
Dulux MyColour
Provided by the top paint manufacturer Dulux, this free download allows you to choose from thousands of colour sets and try different combinations out on your own pictures of your home, then save the design to their MyProject tool in order to start calculating how much of what types of paint you need to make your design a reality – and how much it will cost.

Download Dulux MyColour
Benjamin Moore Personal Color Viewer
If you're planning to decorate your rooms and need some help deciding on which colours to use and how they should go together, try this online viewer with the sample pictures provided or upload your own pictures to use instead. You can save your plans and use them to create the ideal look you want for your own spaces.

Benjamin Moore Personal Color Viewer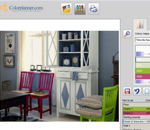 Softonic Color Planner Download
This app is free to use on the sample pictures of rooms and homes, but if you want to use it on pictures of your own home you will need to send the pictures to the developers to be converted, which does cost. The program is very quick and easy to install and even easier to use with large colour selections and lots of options.

Softonic Color Planner
Plan your exterior colour scheme
It's not only when planning your interior design details that you need to be certain of what colours go together – the exterior wall colours need to be chosen carefully as well, not only to be sure they look right for you but in order to make certain your home will be something pleasant for the neighbours to look at. Some home designers include the ability to plan the facade colour as well, so look out for this when choosing your planners.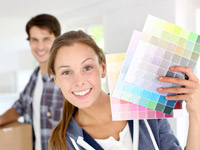 Have you found another colour planner?
Have you found another colour planner, that isn't on our list yet? Or perhaps you've even produced one on your site that you feel would be of real use to others trying to plan their colour schemes? Then send us a link and we'll add it to our collection for others to use and, like you, find out *before* they buy whether the paint looks different on the wall to what it did in the tin!
Colour planner
based on
0
voters.