Free 2D online garden planners
Where should the garden path be laid? Where will you put the garden furniture, the new pond and the wonderful lawn to relax on? Our collection of 2D online garden planners will help you to plan your dream garden quickly and easily, giving you an overview of the shape of the future garden. You can move lawns, trees and bushes as you want and when you've finished you'll have a 2D or 'flat' plan on which to base your new garden. If you prefer to have a more realistic 3D rendition of your plan, try one of our free 3D online garden planners.
SmallBluePrinter garden planner
If you would like to be able to plan your new garden online for free, quickly and easily, then the SmallBluePrinter garden planner is just the one for you. You don't even need to register in order to create your 2D overview plan and you can export the result and use it elsewhere as well.

SmallBluePrinter garden planner
Gardena garden planner
This easy-to-use free online garden planner is a creative way for you to be inspired to create your new dream garden plan in a simple and quick application that provides 2D designed output.

Gardena garden planning tool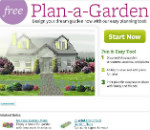 Better Homes & Gardens garden planner
The Plan-a-Garden 2D online garden planner gives you the ability to create any size garden from a single container to the biggest multi-area garden. The catalogue contains hundreds of plants of all types and just about every structure you can think of, from a summer house to a wildlife poind.

Better Homes & Gardens garden planner
GrowVeg.com garden planner
With this interactive garden planner it will be quick and easy to draw out your vegetable garden, decide what crops you want to grow and place them in various layouts until you have the perfect one for you. It will operate in imperial or metric – your choice – and you can create any shape and size of garden – use your imagination!

Interactive Vegetable Garden Planner
Gardener's Kitchen Garden planner
If you like to plan ahead so you can make the most gain with the least effort, this kitchen garden planner is for you. It can supply fifteen plots to each plan and give detailed instructions on what to plant and when if that's what you wish, or you can use a blank plan to add your own crops and get exactly what you want instead.

Gardener's 2D Kitchen Garden planner
Plan Garden garden planner
This planner is slightly different in that it is intended to be used on an ongoing basis. Yes, you can design the whole garden at the start, but if you wish you can then go on to record the planting of crops, the harvests gained each year, what was planted the next year ... it can even be used by a small business to keep the required records of what is produced and how much it was sold for!

Plangarden.com Garden planner
2D garden planning
Two-dimensional planners are best for creating a quick and easy 'flat' overview plan with which to get an idea of what should go where in your new dream garden, but if you prefer to get a more true-to-life idea of how it will look, you should try one of our 3D garden planners.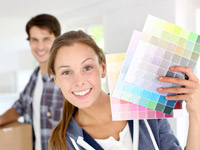 Wanted – 2D online garden planner
If you should come across a 2D garden planner like those above that you feel is good enough to be included in our collection, please send us details and a link using our contact form so we can add it in!
Garden planner 2D
based on
0
voters.