3D living room floorplanners
With a 3D online planner you can visualise your rooms as they should actually look and therefore get a better idea of how your plan is going to work. You can make the plans quickly and easily, then save and print the results. If want to work on your plans offline, then we recommend you use one of the free downloadable software planners in our Free Downloads collection.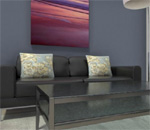 Roomsketcher Planner
The Roomsketcher online living room planner enables you to create great designs not just for your living rooms, but for most of the rest of the rooms as well. You can plan online in 2D or 3D with this free-to-use planner's wide selection of furniture.

Online floorplanner Roomsketcher
Floorplanner
You can create your floor plans and design your spaces very quickly with the Floorplanner floorplanner! You do need to register with the website before you start, but the room planner runs in almost any browser.

The Floorplanner 3D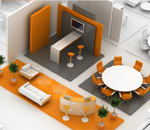 ExhibitCore Floor Planner
The ExhibitCore space planner is designed to be used as a space planning tool for anyone who is laying out an exhibit at a trade show, or indeed the whole event. The detailed floorplans created by this planner can be shared online between those organising the event and although users do need to open an account to use it, doing so is free.

ExhibitCore Floor Planner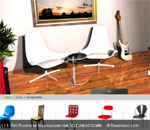 Roomeon 3D room planner
Roomeon does not go straight to lattice models in a 3D CAD view like most floorplanners, but allows the user to create a rough impression of their design ideas for the rooms and furniture first. Just register with the site to gain access to all their creative functions.

Roomeon 3D Planner
IKEA splashplanners
IKEA's Home Planner contains a selection of room planners that allow you to become your own Interior Designer, placing your choice of living space furniture in plans laid out to the exact measurements of your rooms. While the various planners can be used together to get your rooms to look exactly right, you will have to download each different planner separately to gain access to each one's content.

IKEA splashplanners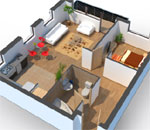 Roomle Floorplanner
You can plan and develop all your residential spaces online with the Roomle floorplanner, uploading existing floor plans or using those provided. The finished plans can be integrated online to give one complete design for your home. All rooms are displayed in 3D and fully customisable.

Roomle Floorplanner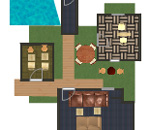 3D Homestyler
The Homestyler planner drops you straight into the designing and planning of your rooms right from the start, with various templates set up for you that can be adjusted to fit your exact room measurements. The Homestyler graphics are extremely quick to update and it is a very easy program to use.

Homestyler 3D Designer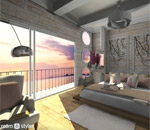 Roomstyler interior design
The Roomstyler planner is an extremely sophisticated program with a number of special details, such as the ability to position the 'camera' wherever you wish in order to create the 3D image you want, and a comprehensive and totally customizable selection of items to use.

Roomstyler 3D Floorplanner
La-Z-Boy
The La-Z-Boy 3D room planner is extremely quick and easy to use and produces amazing virtual images of your dream designs. You can add windows and doors, change the room shape, add and change floorings and paint colours and customize the furniture's styles and fabrics easily to see how your real room will be when finished.

La-Z-Boy Roomplanner
Icovia space planner
Icovia's 3D space planner offers a comprehensive catalog of products for everything from furniture to lighting fixtures and enables the user to change wall coverings and/or paint colours, floor styles and lighting effects as much as they wish. It gives fully interactive views of the decorating and space planning designs as they are put together.

Icovia space planner 3D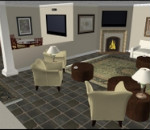 3Dream planner
Online 3D room designs with 3Dream are a dream come true! The planning interface runs in your browser online but once finished designing your space in 3D (or 2D) you can take snapshots of your design to share with friends by email, sharing or printing, it's your choice.

3Dream planner online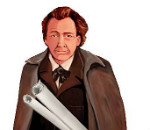 Architect Studio 3D
Work with Frank Lloyd Wright on this interactive architectural design website to design your house then share the finished plans with everyone! There is virtual assistance available for planning and you can create a 3D model of all your living spaces.

Architect Studio 3D
Interior designing in three dimensions
When you create your interior designs in three dimensions you can see all aspects of your room easily, not just a 'top-down' view, which makes it easier to get an accurate spatial impression of the planned rooms. If you prefer to work offline you should install one of the free downloadable floorplanners in our Free Downloads collection.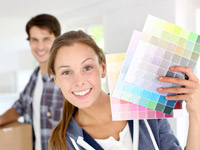 Found a new 3D living room planner?
Have you found or created another 3D living room planner? Let us know by sending us a message on our contact form and we will add it to our list!
Living Room Planners 3D
based on
0
voters.