Tile planning made easy
If you would like to plan the tile layout for your bathroom, kitchen or other living room floors quickly and easily, use one of these free planners and get your ideas organised. Anyone who has tried to design a tile layout knows it is not as easy as it seems; all too often things do not look as you had imagined, so that you are disappointed with the results. The most important thing about working with these planners is that you can easily change things, rearrange the tiles or decide to use different tiles entirely and replace them in moments, enabling you to plan your tile design exactly, on both walls and floors.
Bath & kitchen decoration designs with a tile planner
In kitchens and bathrooms particularly, it's a great help to be able to see the potential result in a realistic 3D view, and make quick and easy changes to the details, such as adding a border or changing the size of the tiles. So whether you're designing the bathroom floor pattern or deciding how to organise some mirror tiles in the kitchen, you always know you'll have it right before you go out and buy the tiles themselves.
Tile 3D online Planner
Create a whole new bathroom plan for yourself with this online 3D tile planner, including designing and applying all the tiles you'll need to finish it off beautifully. Includes instructions on how to use it easily from the start, and 2D or 3D options for working on your plan. You do need to register to use the planner and it is currently in a beta version.

Tile Planner online
Mosa Tiles Planner
Get realistic 3D representations of your dream bathroom that are so real you'd think they are photos, and then plan exactly how your tile designs will be laid out in it. Try different combinations and styles to see which is the one you want to have in your own home, view the results online and print out the best versions. Requires the installation of a web player in order to show the 3D views, although the planner itself is online.

Mosa Tiles Planner 3D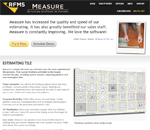 Measure free trial
Measure is a comprehensive software planning program, available as a free trial download, that allows you to create both 2D plans and 3D visual representations of your proposed rooms and provides estimates and layouts of your choice of flooring, whether it's carpet, hardwood, tile or laminate. You can quickly and easily work out how much you need of which products in just a few steps, although you do need to register before you can try it. Includes free online training videos to get you up and running quickly.

Measure Planner Download
2D Tile Estimator
Tile estimator allows you to input the measurements of your room and then choose the types and sizes of the tiles you want to use, before providing you with a report on quantities and requirements for your room, along with an estimate of the cost. You never need buy too much or too little for your particular job again!

Launch Tileestimator planner
Mexico Tile Planner
A very basic but colourful tile planner that gives you a selection of colours and patterned tiles and a grid to fill so you can experiment and see what looks good. Offers grids for 5x5cm and 10x10cm size tiles (although the squares are displayed the same size in both) and a better tile selection in the larger size grid. The tiles are available for sale on the site.

Free Mexico Tile Planner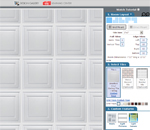 Ceiling tile planner
This versatile planner has lots of features to allow you to design a feature ceiling for your room including flexible room layouts, numerous tiles and sample designs and various custom items such as vents and light fixtures that are bound to be involved in your room design.

Ceiling tile planner by udecor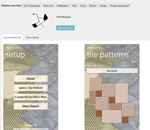 Tile planner
Not quite free at $1.99, this planner claims to allow various tile patterns, adjustable grout spacing and flexible floor plans so that you can design your layout and decide all the details, then it will email a report to you detailing how many tiles of the various sizes you will need to recreate it on your own floor.

Tile planner for $ 1.99
Tiles in the living rooms?
With the modern preference for smooth, easy-clean surfaces, many people are having tiles on the floor throughout the house, and using a tile planner enables easy organisation> of the alignment in each room and the transitions between the rooms – letting you spot silly mistakes onscreen so you don't make them in real life! In fact, we recommend the use of a tile planner in these situations for just those reasons! We hope you will have a great deal of fun planning your tile designs for your walls and floors.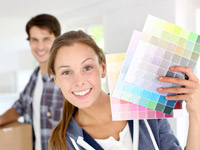 New tile planners?
Have you found another tile planner, or are you perhaps a tile manufacturer or retailer with your own tile planner available that isn't on this list? Then use our contact form to send us details and a link so that we can add it to our collection and give other users the benefits as well!
Tile planner
based on
16
voters.