Free 2D online bathroom planners
If you want to design a two-dimensional or 'flat' plan of your new bathroom, then one of these 2D online bathroom planners could provide the platform you need to bring your designs to virtual reality. The plans can all be created and stored online but if you'd prefer a 3D visualisation, we recommend you try one of these 3D bathroom planners instead.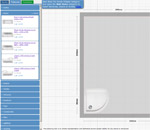 Bathstore bathroom planner
It's the simplest thing in the world to design – and buy – your dream bathroom when you use Bathstore's own 2D online bathroom planner to create your virtual design. The planner even has a virtual 'basket' showing the items you've used and their prices so that you can keep track of what the room will cost as you go along!

2D Bathstore bathroom planner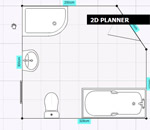 Watershed Bathrooms bath planner
This bathroom planner lets you try all the possible ways to lay out your dream bathroom using items from Watershed Bathrooms, then when you know what you want you can take the design along to one of their showrooms and they will produce it in three-dimensional, full-colour, realistic near-photographic resolution.

Watershed Bathrooms bath planner
A1 bathrooms planner
Have fun creating and perfecting your dream bathroom design using this interactive 2D online planner, then take it along to A1 themselves to get a quote (subject to survey) or to have their knowledgeable personnel enter your design into their professional software and help you develop your ideas even further.

A1 bathroom planner
VirtualWorlds 2D bathroom planner
The VirtualWorlds 2D online bathroom planner allows you to start by either choosing a room shape template and adjusting it to fit your dream or to create a brand new shape in freestyle fashion, before going on to use their extensive catalogues to add all the items you want to have in your room, where you want them. You will need to open a (free) account and login if you want to save your designs and retrieve them later, and VirtualWorlds provide the option of having them create a 3D version of your design for you if you wish.

VirtualWorlds 2D bathroom planner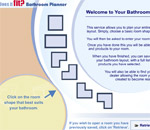 Bathroom Guides planner
Bathroom Guides have provided this 'Does It Fit' design tool so that you can create a plan of how and where each of the items you want to have in your dream bathroom will be placed in a to-scale representation of it, before you create it in real life.

Bathroom Guides online planner
Woodlandliving 2D bathroom planner
This free 2D online planning tool is very easy and intuitive to use and is specifically designed to let you plan your own dream bathroom quickly and simply no matter what the room dimensions. You can include every item you want to have, whether decorative or functional, and save your design as you go along so you don't accidentally lose any brilliant ideas!

Woodland Living 2D bathroom planner
Planning your bathrooms in two dimensions
All the bathroom planners listed on this page are free online two-dimensional planners that produce 2D or 'flat' plans very quickly and easily, but that are not always easy to visualise as actual rooms. If you find it difficult to visualise your rooms using this type of planner, you should try one of these 3D bathroom planners.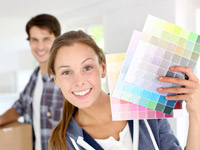 Tell us about a new 2D online bathroom planner
Have you found or perhaps made available a free 2D online bathroom planner that isn't yet included in our collection? Then please do tell us about it by using our contact form.
Bathroom Planners 2D
based on
3
voters.